Aintree History
The name Aintree originated from Saxon times and is interpreted to mean 'one tree' or 'tree standing alone'. At the time Aintree was mainly moss land; so perhaps the appropriate theory is that the tree was planted by the Saxons to establish the centre of their new village. The local people would like to believe that the Oak tree in Bull Bridge Lane, was the 'Ain-tree', unfortunately in 2004 the tree had to be removed due to severe disease.
The Aintree
One of the first documented reference to Aintree is found in a Charter of Cockersand Abbey (the monks being the most important landowners at that time), written about 1200. In 1296 William de Aintree's possession was 5 1/4 oxgangs of land (221 acres) and 1/4 of the Mill.
The Molyneux family became very prominent in the locality and their main home was in Sefton until the 18C. Croxteth became their second home around 1535. It is uncertain when the family came to own most of the land Aintree; it is generally thought to have been granted to them by royal favour. However, they still owned the land up to the 1930's, when a plot of land was purchased by Sefton Building Company to begin the building of Aintree Village.
The Molyneux family was very active in bringing about the Alt Drainage Act of 1779, which resulted in great acres of marsh along that river becoming good agricultural land; an occurance which would bring hitherto unknown prosperity to the inhabitants of Aintree.
During the 19th Century, the family became noted for its sporting interests, including coarsing and steeplechasing. The second Earl of Sefton, known as Lord Dashalong, (because of his fondness for driving a carriage and four), was a keen sportsman and gambler who sold off land to the Waterloo Hotel at Maghull to found a steeplechase course. The rest is history.
There are several properties in the Village that were built as early as 1600's;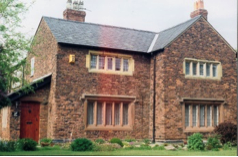 VALLEY HOUSE, BUILT circa 1638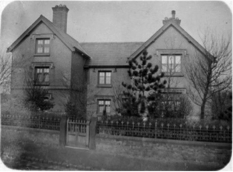 HUNTERS HOUSE circa 1700
ABBEY COTTAGE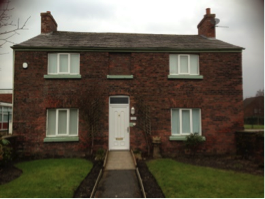 Abbey name is mentioned in documents dated 1568 and can be traced back through Parish Registers as early as 1620, they farmed where the Holy Rosary Church now stands.
There are also several properties that were built in the 1700's;
Aintree House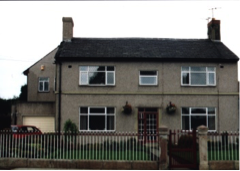 Dr. Richard Lathom, a retired surgeon from Liverpool, came to live here until his death on 23rd April 1713, therefore this house could be almost 300 years old. Nicholas Blundell, a famous diarist, was appointed as his executor of his will, and as was the custom with men of importance at that time, Richard Lathom left 'something on account' to the poor of the Parish. In Sefton Church, where he is buried, a plaque states, '1714 Mr R Lathom of Aintry left £3.0.0.'.
Mill Square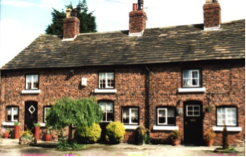 Mill Square was built around 1750, originally as farm buildings, until Lord Sefton had them converted to small dwellings for his employees and their families. Outside one property is a stone tablet with date, 'JET 1765'. Although we do not know what the inscription means, we are certain it was not the date it was built. However, tablets such as this were often made to celebrate an event such as a wedding or birth of a child.
Famous People
Archives prove the village was not poor. Probate inventorie of a William Bower dated 1644 reads; 'landes in Waltone and Fazackerlye and Liverpoole', 'Upholland and Wryghtynten', 'golde and sylver' valued £54.10s.0d., 'sylver plate' valued £23.6s.0d. His brother Richard died June 1624, leaving 200 bushels of wheat valued £30.0.0. and 200 bushels of oates valued £30.0.0 Flax and hemp was included in many inventories, both being easy to grow in the damp moss.
Many prominent people lived in the area (others still do!). Two worth a mention are;
JOHN SADLER lived at Aintree House, born 1720, son of Adam a printer. Adam bought Aintree House in 1723 for £50. John Sadler was accused of being the publisher of 'a most scandalous paper lately printed at Liverpoole …'. John later became interested in printing on pottery. He is credited by some as being the discoverer of a method of printing on pottery from copper plates (previously all decoration was hand painted). John married at the age of 57 and had three children. James, born 1786, 'casually drowned in the canal at Aintree' in 1794. Elizabeth, his only daughter lived in Aintree Lane until her death in 1857, age 85 years.
RICHARD ABBEY lived at Abbey Farm, (where the Holy Rosary Church stands). He was an apprentice to John Sadler in 1767. Richard went on to open the first pottery on the Herculaneum site in South Liverpool about 1794. He created a famous set of tiles depicting Aesop's Fables. Both Sadler and Abbey have pottery on display in Liverpool Museum. Many pottery sites and potters, followed in the Liverpool area.
Leeds & Liverpool Canal
Construction of the Leeds & Liverpool Canal, the longest in single canal in the country, began in 1770 and was completed in 1816. The stretch of canal near Aintree Village was completed in 1774. Bi-Centenary celebrations have taken place during 2016 along the canal taking in Aintree Village, Melling, Maghull and Lydiate.
Passenger carrying boats were called 'packet boats' because they also carried parcels. There were two passenger pick up points in the village, Wango Lane and Ormskirk Road, and travelling time to Liverpool on the 'Lancashire Witch Packet' was two hours.