Local Stories
We asked members of the community to share their own WW1 stories with us.
Here are some of them: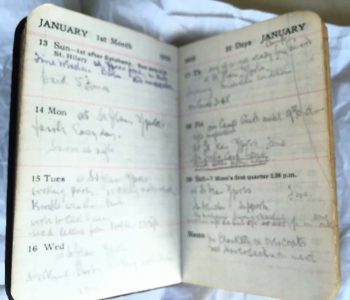 The Pocket Diary of Private 48449 Thomas Birkett Yarker
Private Yarker, of the 4th Kings Liverpool Regiment, is the last name on the St Giles Memorial.
Private Thomas Birkett Yarker, who lived at 15 Poulter Road Aintree, near Maghull, ended his embarkation leave on 27th December 1917. His wife and 5 year old daughter Doris waved goodbye to him at Lime Street Station, Liverpool.
From that date he kept a small diary of information of his movements and experiences on the Western Front until he was sadly killed in action just 3 weeks before the Armistice was signed.
From Liverpool he went via Holyhead, Dublin, Cork, London and Folkstone before crossing the Channel to Boulogne, arriving on 3 January 1918.The weather was very cold with rain, snow and lots of mud. There were also many route marches making his way through St.Omer, Hazebrook, Bailleul, Poperinghe and St. Jean before arriving at Ypres.
On Sunday 20th January he went "Up Line" to the front where a shell landed less than 5 yards away. Over the following months he was the Battalion Runner for a short time, (very dangerous), took and passed a signalling course, and trained in the use of the Lewis Gun. He noted the 6th birthday of Doris on 16th October, and on 20th October he took a 1 mark souvenir from a German Prisoner.
The next day he marched 7 kilometres to Croisvilles and prepared for a tough battle to take the village of Ovilliers. Here he was mortally wounded and was evacuated to the field hospital at Awoingt where he died the next day aged 34.
The pages for 24-30 October had been removed from his diary, probably by the person certifying his death.
The diary was returned to his wife and was passed on to Doris who died in 2013 aged 100 years. Doris bequeathed the diary to Simon Rennie who with his wife Molly have transcribed it as best they can. No member of Thomas Birkett's family have ever visited his grave.
The diary provides a unique insight into the movements of an ordinary soldier from our community in that fateful year.
You can see pictures of the diary and Simon sharing it with members of the local community below. Simon visited Private Yarker's grave and followed his footsteps as described in the diary a few years ago. He videoed this experience and shared it with Doris. You can see a photograph of Private Yarker's headstone here too.
Many thanks to Simon and Molly Rennie for sharing this story with us.
PLEASE NOTE: There is a flickable version of Private Yarker's Diary below this. If you can't see it try opening the page in another browser….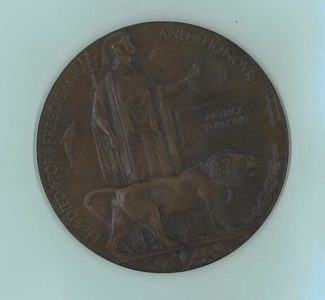 Patrick Furlong
Moya Middlehurst, finance officer at Holy Rosary Primary School, shared the last letter that her grandfather's brother wrote before he was killed in the Great War. You can see a photograph of the letter below. This is what Moya said:
"Patrick Furlong was my granddads brother.  My granddad was born in 1891 – but I do not know how old Patrick was.  As far as I know he was in the Connaught Rangers, went out to India on a boat and did not return.  I believe he died in 1914."
Moya also shared the "Dead Man's Penny", pictured here, which all families bereaved during WW1 received. If you look closely at the penny you can see Patrick Furlong's name.
You can click on the photos to enlarge them.